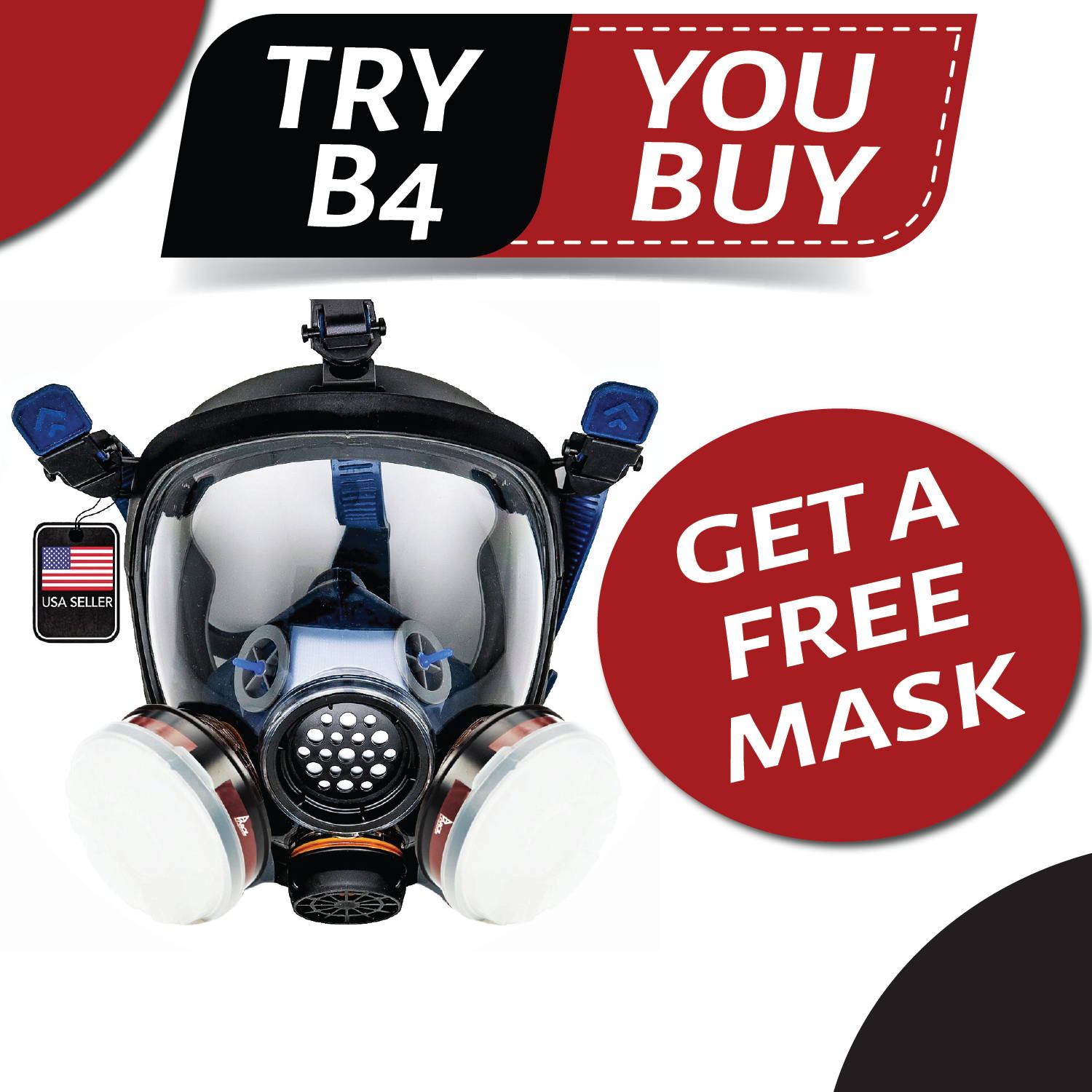 Try the PD-100 OUT for free
1.) Select "Get FREE PD-100 Now"
2.) Proceed to Checkout
3.) Input Your Shipping Options
4.) Under "Payments" Choose "Shop Pay Installment"
5.) Follow the instructions of "Shop Pay"
6.) Start a Return within 14 Days if you don't like it
7.) Or Keep it and be charged First Installment 2 weeks after purchase
---
---
What Makes Parcil Safety Different
US Midwest Owned and Operated
We Specialize in Respirators
We manufacture and Sell Direct to you
Based out of Evansville, IN, we are a group of Midwesterns that know safety is paramount in any job. Every email is answered within a few minutes from our amazing customer service team, based right out of Evansville. Need to speak to a live person on the phone? Call us any time to speak with an American. Buy purchasing Parcil Safety products, you are backed with a 100% Satisfaction Guaranteed and you can rest assured that if you have any issues, we will get them resolved as soon as possible.
When purchasing from many other PPE sellers, you are usually buying from a large corporation who has multiple interests in things like adhesives, financial markets, pet supplies, and other random products. But with Parcil Safety, we are fully devoted to providing the best respirator protection possible and are constantly looking to innovate and bring masks to market that actually solve REAL problems in the industry.
No more paying 10 to 20 times the cost to manufacturer the masks. Because Parcil Safety is a DTC business, we cut out distributors, wholesalers, and retailers to bring our masks to you at the lowest cost possible. We still go through the rigorous testing of the major players, but we don't pass that cost onto the consumer, because we don't have to. When you buy from us, know that you are getting a brand new mask shipped straight from our manufacturing facility to our fulfillment centers to your doorstep and save A LOT of money.  
---
---
No upfront cost. Select the PD-100 mask. Try it for 2 weeks. Return it if you don't love it and you won't get charged.
4 easy installments after
Decided to keep the mask? Great! It gets even better. After the first 2 weeks, you are only charged 25% of the value. Receive an automatic charge every 2 weeks until it's paid in full. No interest!
Return it if you don't love it
Didn't like the mask? No problem. Just return it within the first 14 days, and you won't even be charged!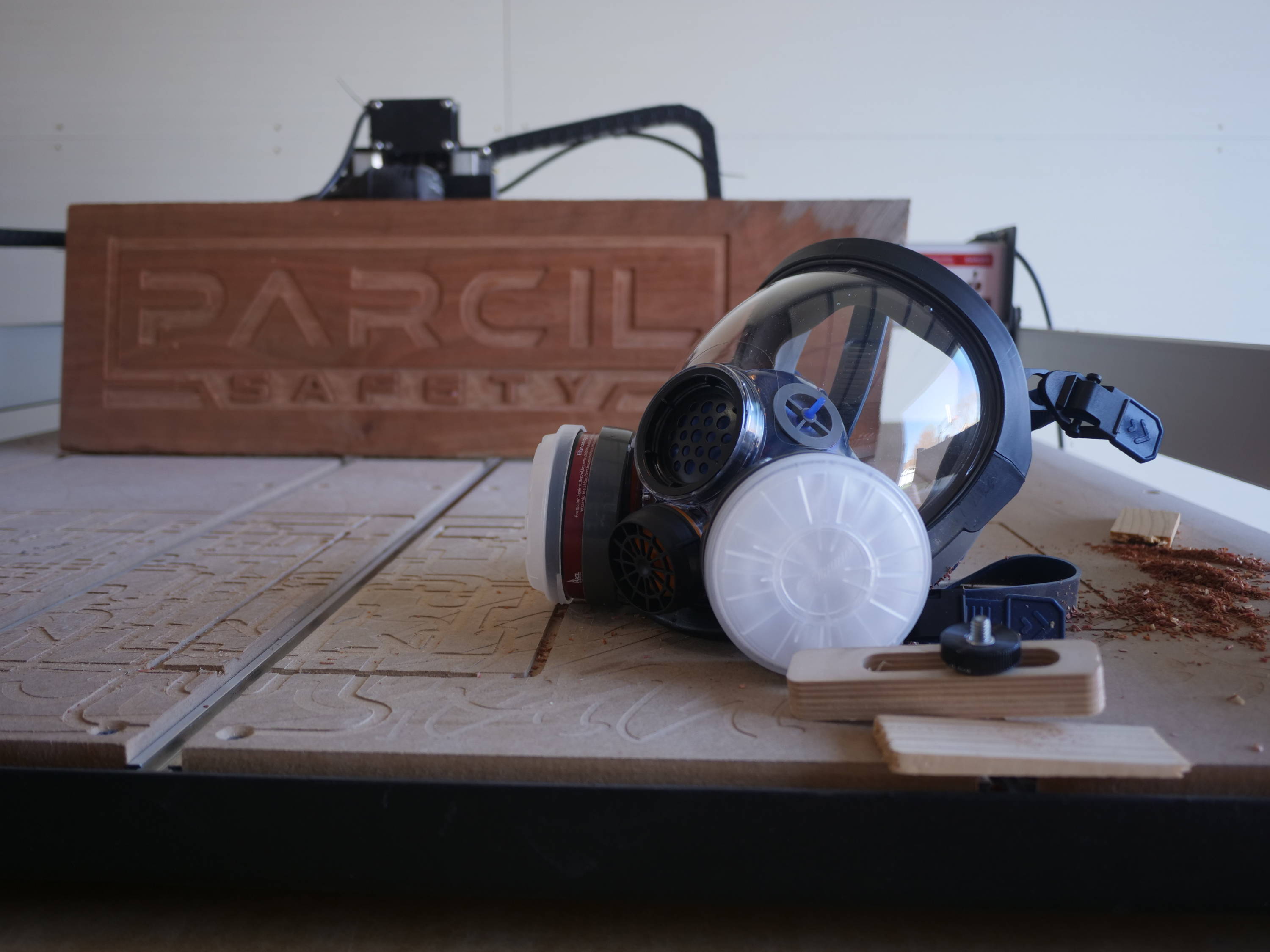 ---
---
How The PD-100 Compares to our Competitors
---
---
What our customers are saying
⭐⭐⭐⭐⭐
Mariana on Mar 08, 2021
Excellent!
⭐⭐⭐⭐⭐
Vivian on Mar 08, 2021
AMAAAAA --- ZING Customer Service
⭐⭐⭐⭐⭐
Henry C on Nov 15, 2019
Saved Me From The Fierce California Fire Smoke
This respirator is excellent! And so is the customer service!
I purchased two of these for cleaning out an attic and they worked perfectly. I ordered them on a Monday around noon (Pacific Time). They shipped out the same day, and I received them the next morning. Amazingly fast.
I was a little concerned that it would be big on me (I have a small face), but the 5 adjustable straps provided a great fit/seal. Totally comfortable and easy to breathe in. Never fogged up. But the true test was when I took it off after 3 hours and blew my nose and nothing grey came out. :)
So glad I purchased this. Love it!
I cannot say enough good things about Parcil's and, particularly, Neal's sense of customer service!
I've dealt with probably hundreds of customer service reps (from prior jobs, etc.) and without exception, Neal's sense of customer service and responsiveness is one of the best I've experienced.
I found Neal to be down to Earth, calm, and kind. He walked me through the usage of the product. And even told me how to save some expense regarding the perishable components of the product.
As for the product itself (PD-100), I absolutely love it!
I can even wear my eyeglasses with it. Because of certain medical issues, I have been quarantining myself during this time of Covid. Now with this face mask / respirator, I can now go to populated stores without any great concerns. Hooray!!!
Get yourself one of these masks and protect yourself from the smoke the next time the government decides to set off multiple fires in California. I am pretty sure they are doing this to shorten your lifespan, but this can make sure you stay alive! Not even kidding, look up D.E.W and california fire, and this thing will keep you woke.
---
---
Additional Information about the PD-100 Respirator
Overview:
Parcil Safety's premier PD-100 Full Face Respirator Gas Mask is a comprehensive solution for users seeking protection for their eyes, face, nose, mouth, and airways. Designed to safeguard the wearer during a variety of activities from home improvement to industrial occupations, the PD-100 is dependable for strong protection against organic vapors and 95% of particulates down to 0.3 microns. 
The head harness contains 5 auto-lock connection points: one on top and two on either side of the head. The harness is made from dense, durable elasticized rubber which maintains its shape and stability despite wear and tear or hot conditions. The harness is easy to don, requiring a simple pull on each of the pull-tabs to secure. The rubber is smooth which reduces pulling against the hair or skin, and layers well beneath head protection. 
The impact-resistant face shield is designed for heavy-duty activity when the wearer needs protection against high-speed flying objects (such in the case of sawing, grinding, hammering, and a variety of other applications). It is scratch and stain-resistant for enhanced durability. The face shield is formed with a dual convex shape, which not only increases user comfort but also offers a wider field of view of more than 200°. 
The nasal/oral cup and face seal are lined with soft, natural rubber to sit comfortably on the user and maintain an airtight seal. 
The design of the intake and exhaust valves help set the PD-100 ahead of its competition. The exhaust valve, located at a downward angle within the oral/nasal cup, removes dead airspace to prevent inhaling Co2 and prevents fogging on the exterior of the shield. The two intake valves are located higher up on either side of the mask. These three points maintain consistent, cooling airflow to preserve user comfort and increase wearability. 
The PD-100 mask and filter set comes with two P-A-1 carbon-activated filters, which are independently tested to protect against organic vapors and 95% of particulates down to 0.3 microns. These filters were engineered with the intent of providing users with greater ease and convenience when exchanging filters. Their round shape easily locks securely into the cartridge interface via a simple twist. They are crafted from several layers of nonwoven fabric and sealed within a heavy-duty plastic cover, further protecting the user from respiratory hazards.
Highlights:
Dual convex

face shield

design elevates mask off the face for enhanced

field of view

 

Strong protection against non-

oil based

parti

culates and organic vapors

 

Compatible with the P-A-1 carbon-activated filters (included in the set)

 

Built for superior, all-day comfort and protection

 

Adjustable rubber straps allow easy donning

 

Advanced

 

ventilation structure creates cooling airflow f

or non-stop comfort

 

Low breathing resistance

 

High-quality voice box

diaphragm

for easy communication

 

Premier silicone

face seal

for a comfortable and airtight seal

 

Easy

filter removal and installation

 

Anti-fog and impact-resistant full-face lens

 

Ergonomic, lig

htweight, and portable design

 

Factory sealed product and packaging

 

Not suitable

for use

with glasses

 
gasoline
ether
nitroalkane
nitrobenzene
carbon trichloride
nitrobenzene
gases & organic vapor
chlorine benzene
acetone
alcohols
anilines
carbon tetrachloride
chloroform
chloropicrin
cadmium
arsenic
methylenedianiline
lead
The PD-100 is ideal for protection during:
woodworking
disaster relief
pesticide application
lawn care
herbicide application
chemical laboratory
health/epidemic prevention
environmental technology
wild fire smoke filtration
pest control
painting
mining
metallurgy
production
chemical production
toxic vapor filtration
construction
dry food processing
agricultural processing
Product includes:
One (1) PD-100 Full Face Mask (Tested ASTM E2952-17)
Two (2) P-A-1 Carbon-Activated Vapor & Particulate Filters
ONE (1) Set ASTM Test Papers

Materials:
Head Harness Frame: Polyamide plastic
Face Shield: Polycarbonate
Head Harness: Silica Gel
Face Seal: Silica Gel or Rubber
Oral/Nasal Cup: Silica Gel
Clasps: Polyamide plastic
Loop Buckles: Polyamide plastic
Voice Diaphragm/Amplifier: Acrylonitrile butadiene styrene